Email Verifier API - Using the Right Tools for Effective Email Validation
An email verifier is an online validation tool used to check the validity of an email address. This tool is often used by businesses especially those with email marketing. It is a very handy tool that can be used to check an individual or a group of email addresses. Aside from these basic services, these online tools mostly come with an email verifier API that can be integrated in a website or an online application.
The Need for an Online Email Verifier
A good email validation tool is very useful for businesses because it helps in preventing an email account from becoming a spam account. A spam account is basically an email address with a very low reputation that each email is sent directly to the spam folder.
Every email account has to maintain a good reputation with their ESPs (Email Service Provider). Regular email users who send emails to their known contacts should not be worried about reputation. However, businesses especially with email marketing have to be wary about reputation because of the number of emails sent on a daily basis.
An email account can accumulate bad reputation when it sends bouncing emails. These are emails sent to inactive email addresses or email accounts that do not exist. This action can affect the email account's reputation because it uses precious server resources without any successful communication.
Aside from bad email addresses that can take a hit on the email account's reputation, there are also types of email addresses to avoid to ensure it will be read by the right person.
These email accounts are role and disposable email addresses. Role email addresses such as help@sample.com or sales@sample.com are specifically created for receiving an email with varying concerns. In a business-to-business (B2B) transaction, sending an email to these addresses will rarely receive a reply, if at all. Disposable email addresses on the other hand are created by users who want to fulfill the online requirements for membership and/or access without providing personal contact information.
Bouncing emails, role and disposable email accounts can be easily detected with the help of an online validation tool. Websites such as Bulkemailverifier.com offers quick email validation for individual email addresses.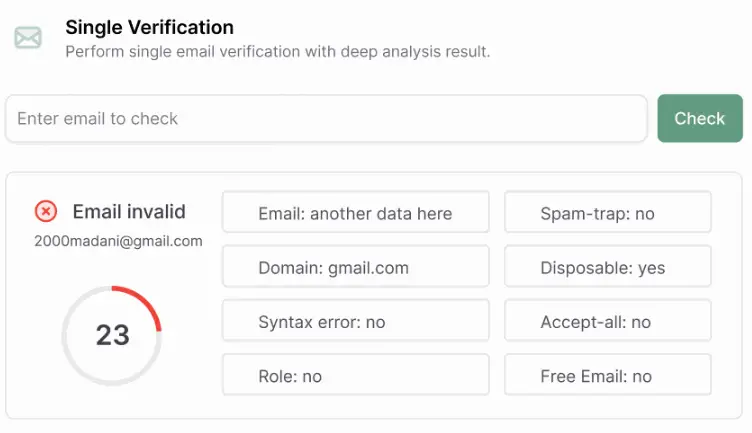 The sample validation used on Bulkemailverifier.com reveals that an email address is a disposable email address and should not be used. A gmail account can be freely created by anyone and could be forgotten once used. Unless the user is very familiar with the address, this contact information will not likely provide any positive response. Aside from individual email validation, Bulkemailverifier.com also offers bulk checking of email addresses. This is very helpful to companies with a large contact list to maintain.
Integrating a the Web Tool to a Website and Email Account
One of the most interesting features of an online email verifier is its ability to check the email address in real time and this feature could be integrated to a website. Businesses with online stores should greatly consider this feature because it prevents any bad email addresses from being used to access the services.
Businesses who use an email platform such as MailChimp, SparkPost and more can also take full advantage of email checkers from Bulkemailverifier.com. Once integrated, the online tool can be used to check the email addresses in the contact list and will provide timely reports when needed.
Those who are serious about email marketing should consider getting a good email validation tool. Bulkemailverifier.com offers a wide array of email validation services that will easily help any online business effectively reach more customers.