Free Email Checking – Verifying Email Addresses For Free
Email addresses have become vital to online advertising and product marketing. Companies now spend a huge budget on Email campaigns to follow up on customers and sell more products.
The challenge for most companies is that many email addresses may turn out to be invalid. Reason for invalid email addresses include typographical errors, syntax errors, fake emails etc.
Email Checking tools are available online to help confirm the validity of email addresses.
The question many ask is "Can I validate email addresses for free?"
The answer is yes. You can conduct a free email validation test online.
There are many free email verifiers online and you can easily use their tools to verify if your email address is valid or not. These free services are however limited. The limitation is seen in the number email address validation you are allowed to conduct.
Usually free email checking sites offer you single email verifications. This means you are only allowed to check one email at a time.
Some allow you to check a couple of email addresses for free and then offer you a paid option to conduct bulk email list cleaning.
While free email checkers may save you money since you don't have to pay for it, if you have a long list of email addresses in the hundreds or thousands they won't work for you.
Free Bulk Email Address Validation
Are there services that offer email address verification for free?
Yes and No will be the right answers to this question.
Yes, because most bulk email checkers have a trial period when you can check email addresses for free. The trial period usually come with limited number of credits. The maximum usually offered are 100 credits.
With 100 credits you can check 100 email addresses to confirm their validity but if you need more than that you will have to pay.
So if you need to verify the validity of more than 100 email addresses then you won't it for free.
Bulk email verifiers offer paid email list cleaning for up to millions of email addresses. Prices vary from one email checking service to another so if you need to get bulk email list cleaning done you will to compare different price plans and features.
BULKEMAILVERIFIER.com is an affordable and reliable email variation service provider that is worth checking out.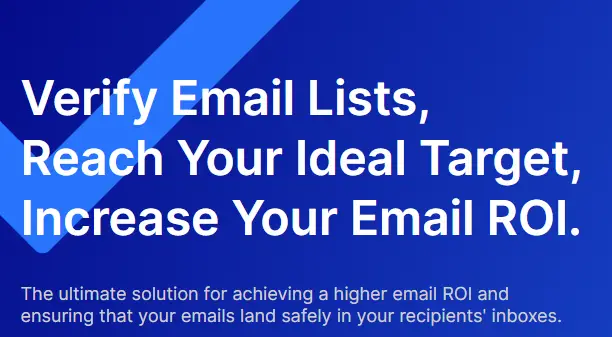 With pricing plans tailored to meet the needs of individuals, small businesses and large corporations, BulkEmailVerifier stands above the rest in the industry.
Free credits to test the quality of service or do limited email checking ate offered for first time users. BulkEmailVerifier also offers paid options that include pay as you go and monthly plans.
The pay as you go option has you buying bulk credit and using as you like while the monthly plan has you paying a monthly subscription that offers you the opportunity to check email addresses regularly at more affordable rates than the pay as you go option.
Conclusion
If your email verification need is limited to just few email addresses you can use free email checking tools and services but if you have a bulk list of email addresses to verified, a paid bulk email checker like BulkEmailVerifier.com will get the job done speedily and accurately.