How to Find a Reliable Email Verifier Online
Email Verification has become very popular these days. No longer do you need to send emails and hope the get to the correct email addresses. There are many email verifiers online that will help you validate email addresses to confirm whether they are real or not.
There is just one problem - the World Wide Web is a huge place. With so many sites and tools offering same services at different rates it can become so confusing finding a reliable service that will solve your problems without breaking the bank.
Here are some points to consider in your search for a reliable email verifier online.
The list below is not exhaustive but it should position to make a better decision in choosing the right email validation tool that will help you get the job done easily.
Accuracy
Accuracy is important when you are looking for a good service. You want an email validator that will provide you accurate results so that you don't waste your time and money.
The fact that most services offer a trial period or at least some free credits for email validation makes it easy to test the accuracy of their services before parting with your money.
So check for accuracy using the free credits offered before signing up for any of the paid options offered.
Pricing
Yes accuracy is important but so is the pricing structure. You don't want to spend so much on what you could have spent little on.
It is always wise to compare pricing structures of different verifiers before making a decision.
Also consider whether your needs are regular or limited. By limited I mean if you only check for valid emails once in a while.
Most email address validation sites offer both pay as go and monthly plans. You must consider which one works best for you. Monthly plans are always cheaper in the long run, so if you need to check email address validity regularly, you may want to go for a monthly plan.
Ease of Use
A very important thing to consider is ease of use. How easy it is to use the email checker is one thing you must always bear in mind.
Some tools are complicated and turn out to be time wasters. Time is money so you can't afford to waste it.
Make sure the email address verifier has a good and friendly user interface.
Support
You must check the customer support options provided before parting with your money.
How easy is it to reach those providing the service? This question is one you must prioritize.
Some email checkers will provide you with a customer support email but they won't reply your emails quickly.
Live Chat is always a great option. If they have a live chat feature you can get your question answered quickly and you will be confident that of any issue arises while using their services you will not be left on your own.
Conclusion
The above points should help you make a great decision about finding a reliable email verifier online.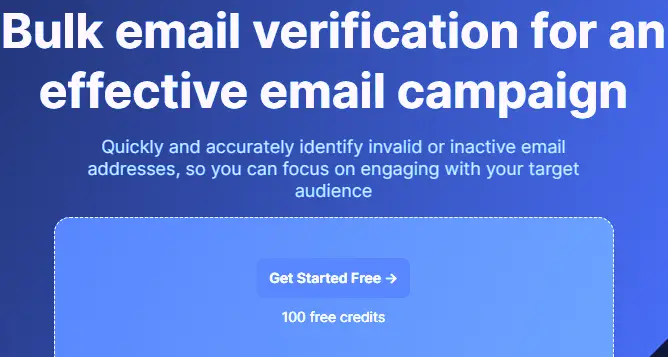 If you need a great site that combines all the things we have discussed above perfectly, you should check out www.BulkEmailVerfier.com.