Are Your Emails Bouncing? Read This!
When it comes to email correspondence, the worst reply is an automated message that says "address not found". This means the message bounced and the intended receiver did not receive the message. There could be a good number of reasons why this happens but one thing is for sure: the message was not delivered as intended and this is bad news especially for businesses looking to update their potential clients of their products and services.
Reasons for Bouncing Emails
When you send emails, bouncing occurs when the address is invalid or inactive. The email address can be invalid when the syntax is not followed or it was written incorrectly. For example, the correct email address is adavid@example.com but the contact information was written as aadavid@example.com. Naturally, the message will not be received because the email address is wrong. On the other hand, the email address could be inactive simply because the person who uses adavid@example.com has resigned and no longer uses the email address.
Syntax errors in email addresses are relatively easy to spot because there is a defined format every email address has to follow. For the email to avoid any syntax error, the email has to have a username followed by the @ character and ends with a domain name with top level domain name separated by a dot. The character should be alphanumeric and can be in lower or upper case. Special characters are also allowed but with restrictions they are rarely used.
Preventing Emails from Bouncing
The simplest method in preventing bouncing emails is by removing any email addresses that resulted in a bounced message. However, the biggest problem with this solution is the fact that bounced messages create a bad profile for the sender. The increase in bouncing emails means an increasingly bad reputation of the sender. Eventually, the sender's message will be marked as spam.
So instead of sending and removing email addresses that bounce, it's better to remove them even before they are used for communication. The best way to remove this type of email address is through an online email verifier. These are simple to use yet highly efficient tools for email validation because of their ability to remove different types of email addresses.
The most common bad email addresses are those with syntax errors or incorrectly written email addresses. However, it is also a bad practice to send an email to emails used for sales and/or support, disposable emails as well as spam trap emails. Spam trap email addresses are created by websites solely for detecting unsolicited emails. These email addresses are given to web crawlers and any email received is marked as spam.
Single & Bulk Email Checking
A good site to consider to prevent bouncing emails is Bulkemailverifier.com. The website has an online tool for individual and bulk checking of email addresses. Aside from confirming valid email addresses, it also analyzes bad email addresses as it gives the reason why it should be considered as valid.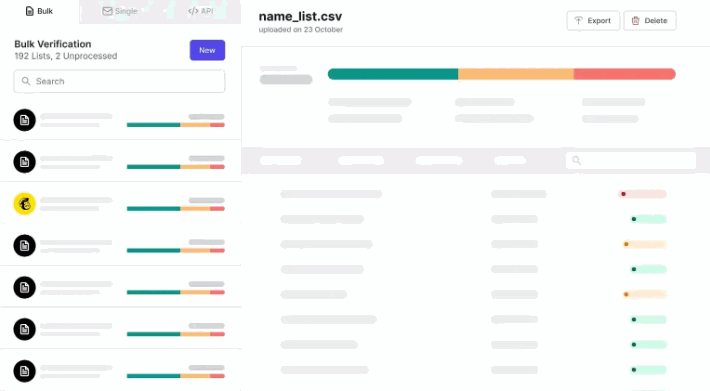 Bulk email checking is highly recommended for businesses especially email marketers with large contacts. Simply upload the list of contacts and wait for the online tool to quickly verify each email address. Although it's a highly technical process, the online tool is very easy to understand and can be mastered with just a few clicks.
In order for the business to survive and thrive, reliable communication should be maintained with the customers. With the use of email validation tools such as Bulkemailverifier.com, businesses don't have to worry about bounced emails as they can be easily detected and removed.