How to Check Valid Email Addresses for a Successful Marketing Campaign
Are you a small business or an email marketer trying to start an online presence? Then you need the right contacts and tools to start strong and find success the soonest time possible. It sounds challenging because finding customers through email is always uncertain but the right type of strategy increases the chance of success.
Getting It Right from The Beginning
A successful email marketing always starts with a list of potential email clients. But a list of clients is not good enough to start the marketing campaign - their contact information should be checked thoroughly to ensure their email addresses are correct.
To check valid email addresses, it's best to start with some online tools that offer free services since this will give an idea on how these services work for email marketing purposes. For example, Bulkemailverifier.com offers free individual email checking online: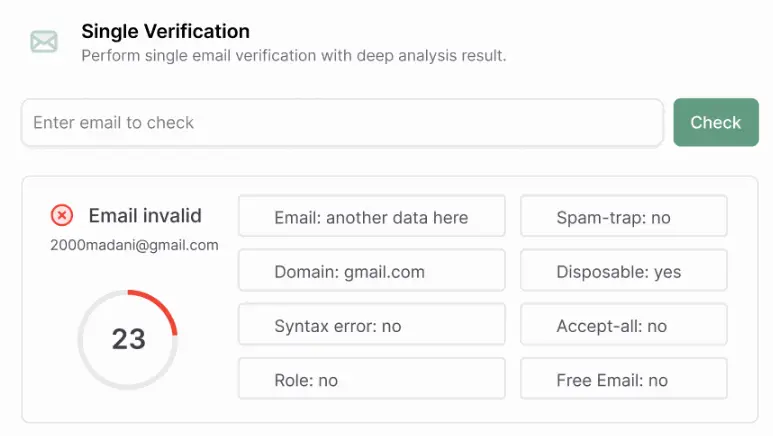 This online tool is used to check one email address with immediate results. Notice that this email has been marked as "disposable" because a gmail account could be easily created and abandoned without any repercussions to the account owner. Email marketers are given an option to push through with marketing to this email account even though there's a probability that the email might not be read. The beauty of these types of online tools is they provide their users a good look at an email address by checking if they are worth the risk or not. Marketers can take full advantage of this free feature and it is very useful especially for a small number of potential clients.
Types of Invalid Email Addresses
In terms of email marketing there are a good number of email address types that have to be removed. Among them are email addresses with invalid syntax. For an email address to be valid, it has to follow the proper naming convention and it should not follow invalid characters.
Another example of an invalid email address is a role email address. These email addresses are often made by companies to help their customers for various purposes. Email addresses such as help@sample or info@sample.com should not be considered for marketing purposes.
A spam trap email address is an email address set-up by online companies and websites to identify potential spammers. Web crawlers will look for email addresses in various websites and these sites will give out the spam trap email to block them from future messages. Marketers should use a good online tool to find these spam traps and remove them from the list immediately.
Using Bulkemailverifier.com
Validating email addresses individually will take time and resources without any assurance of accuracy. But a right tool could check these email addresses in an instant with analysis that can help in marketing campaigns.
A good online service to consider when it comes to email validation is Bulkemailverifier.com. The name of the website says it all - the website specialize in bulk checking of email addresses. Simply upload the list of email addresses to be checked online and receive detailed results of validation.
Aside from individual and bulk validation, Bulkemailverifier.com also has additional services that can help any online business or marketer grow. Among them is their real-time individual email checking. Aside from the individual checking online, Bulkemailverifier.com also has a JavaScript widget and an API that can be integrated in websites and online apps. These add-ons are very useful to determine if the user provides a correct email address. The site also offers inbox testing to test the performance of a message as well as email finder to help marketers create a comprehensive list of potential clients.
Individual email validation is a good method for checking email addresses. However, Bulkemailverifier.com can automate this process and provide additional services for successful email marketing.