DeBounce Review - Learning More about the Email Validation Tool
A successful email marketing campaign always starts with a good list of email addresses. Without a good list, the chances of reaching customers with a good response is slim to none. This is the reason why email marketing doesn't just collect email as part of their marketing strategy - they also make sure that the list they created is a good list that will result in an increase in business transactions.
DeBounce.io is a good site to consider when it comes to email list verification. Its aim is simple and straightforward - to ensure that every email address is verified and minimize bounced emails.
An Effective Email Checking Process
The process of a good email verification checker ensures that the list will be verified without creating any problems for the customer. DeBounce.io does this by getting the email through various screening tools and the end result is a clean list of email addresses.
One thing to note about DeBounce.io - the service will check the email addresses without sending a message to the target email address. The site achieves this type of validation by using other forms of validation such as domain name checking and removing email addresses that came from disposable email services. The site also checks for "catch-all" email addresses as well as proper syntax. An email address without a proper syntax is often given by some potential contacts that do not want to give out real contact information.

Another great feature used by DeBounce.io as an email verifier online in helping their customers filter out bad email addresses is their ability to remove spam trap addresses. Spam trap addresses are email addresses given by websites to bots and crawlers. Anyone who sends an email to these email addresses will be immediately marked as a spammer and could be blocked from any form of communication. A blocked email could create a bad reputation to the email sender and their domain could be in trouble with their web host as well as ISP.
Ensuring a Valid Contact List
It is always recommended to check the validity of an email address even if the email has already been verified. Email addresses could easily become unavailable in as little as three months depending on the set-up by the web administrator or circumstances such as the email address owner resigning from a job post or the domain has been closed. Through DeBounce.io, that problem could be prevented with their monitoring feature. Customers can connect their email sending tool to DeBounce.io for daily checking and will remove any email addresses that are no longer valid. It's a very useful tool for businesses who get in touch with their clients and customers on a near daily basis.
Bulkemailverifier.com as a Great Alternative to DeBounce
De Bounce has a good set of features as an email list validation tool. However, for those looking for an even simpler set-up for checking bulk emails, Bulkemailverifier.com is a very good alternative.
The main role of Bulkemailverifier.com is to ensure that the client's list of email addresses is valid. The website checks the email addresses for different types of error that renders the email address invalid. It uses a very simple web interface to upload, verify and download the list - ensuring customers understand the process of filtering bad emails even in their first use. Aside from bulk email, the site can also be used for single email checking: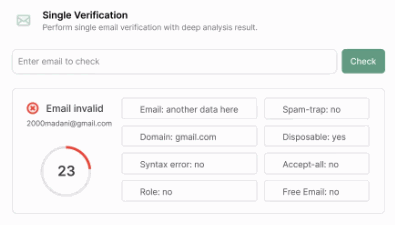 Complementing their "bulk validate email address" feature is their email finder. As the name suggests, it's a tool that can be used to find an email address - a great tool for those who want to create a list of contacts for potential clients.
Bulkemailverifier.com can help anyone start an email marketing campaign. Customers can use email finder to create a good list of clients and use the email verifier to ensure validity of the list.