How to Find the Best Free Bulk Email Verifier
A bulk email verifier is a very important tool for any business that communicates with their customers through email. It's a simple yet very important part of business practice because it ensures that the online presence of the business is maintained or gradually improved. The service is also cost effective because most online services are offered at a relatively low price. It also reduces manpower cost because it does not require a lot of people to automatically check the validity of each email address. A simple and reliable bulk email checker could lead the business to more customers and success.
Bulk Email Verification - The Basics
Bulk email checking as the name suggests, is a process of checking individual emails on a massive scale. Websites that offer this service designs a UI (user interface) for their customers to use to mass validate an email.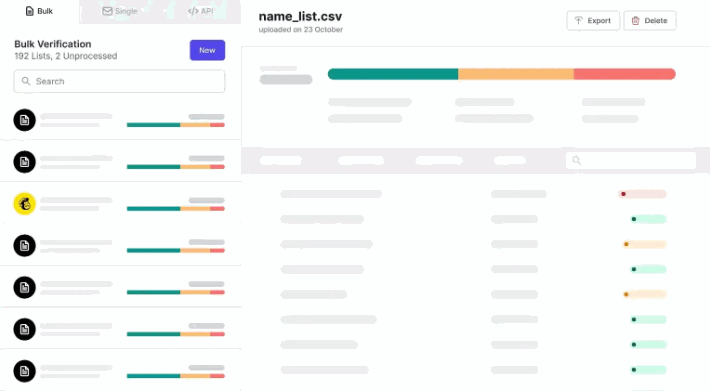 With the help of a bulk email checker, each email is rigorously evaluated for their validity. Users can take a look at the results after checking so they could remove anything invalid or suspicious. This type of online service is offered by some websites for free with limitations on the number of email addresses (usually 100 emails or less). Paying for subscriptions or single use of massive emails can increase the number of validated emails.
The Need for a Good Bulk Email Verifier
A good bulk email verifier is very important for businesses for many reasons. While it helps in removing bad email addresses that are bad at first glance (wrong spelling, customer service email accounts, etc.), it has an important role in removing spam traps and these email addresses cannot be identified by the naked eye. Only a good email checker can find this type of email.
A spam trap email is an email address created by websites for web crawlers. These emails are never given out for any type of purpose so that any email that goes directly to that email address will be marked as unsolicited email or spam. It is a must to avoid this type of email at all costs because an email address marked as spam because it will create a bad "reputation" to the sender. This reputation is monitored by email address providers and ISPs in some cases.
The Best Free Bulk Email Verifier
Bulk email verifiers usually charge you for a long list of emails but the best ones will offer you free credits to test their services before asking to pay any money for your long list of email addresses.
A great website to consider when it comes with bulk email validation is Bulkemailverifier.com. It's a powerful validation tool that quickly checks the list of emails uploaded to their interface. The results are immediately available complete with analysis on the reasons why the email address should be considered invalid.
BulkEmailVerifier.com offers some free credits to start your bulk email list cleaning but if you have a long list you will need to subscribe to one of their affordable packages.
Aside from bulk checking of email addresses, the website also offers individual email checking. This feature is highly recommended for a small list of email addresses.
Even though it's only a single email, the results provided are also the same with bulk email: it will check for validity and give the reason why it is a bad email address. Based on the screenshot, the email is invalid because it is considered as a disposable email.
Growing the Business with Bulkemailverifier.com
A good reason why Bulkemailverifier.com is a better online email validation tool than most is the fact that they can also help in email lead generation. This is an ideal feature for those who need to expand their business with more customers. Bulkemailverifier.com's email finder tool can help in finding valid email addresses in different industries.
Businesses who are serious about maintaining their online presence should consider using a reliable email checking tool. Bulkemailverifier.com could provide that service with additional features that can also help the business grow.