Email Marketing, Email Syntax Checker & Email Verification
One of the best ways of growing your business online is through email marketing. You can easily get your message through to your potential clients with a well versed message. Even with advancement of technology and other forms of marketing, sending a good email to clients to convince them about your products and services still works.
But attracting customers through email is more than just sending messages on a timely basis. Increase in online security has made email service providers (ESPs) wary about the email their users receive. As a marketer, you need to make sure you can be trusted by ESPs to easily communicate with your potential client.
Smart Practice
To get your message across, it's important that your message is received properly. In email marketing, this means your email should be received in your potential clients' inbox. You need to follow smart messaging practice to ensure your message is received in the right folder.
An email marketer should make sure that the message will not be sent directly to the recipients' spam folder. Fortunately, there are some good practices to consider to avoid this problem and it all starts with a good contact list.
Email Syntax Checker - Checking the List of Email Addresses
If you have a list of potential clients' emails, it's very important to check them for validity. This is especially true if the list came from 3rd party lead generation providers. Some of these providers just give out email addresses without a quality check so don't rely on their list without giving it a thorough check.
You could do a manual email syntax check to see if the email is correct. An email that as double @@ is definitely wrong (myemail@@gmail.com).
The best way to check the validity of an email address is through an online email checker. This is a very important tool for marketers because they help in preventing bad email addresses from going through. The tool can work as an email syntax checker and more because of its ability to filter different types of invalid email addresses.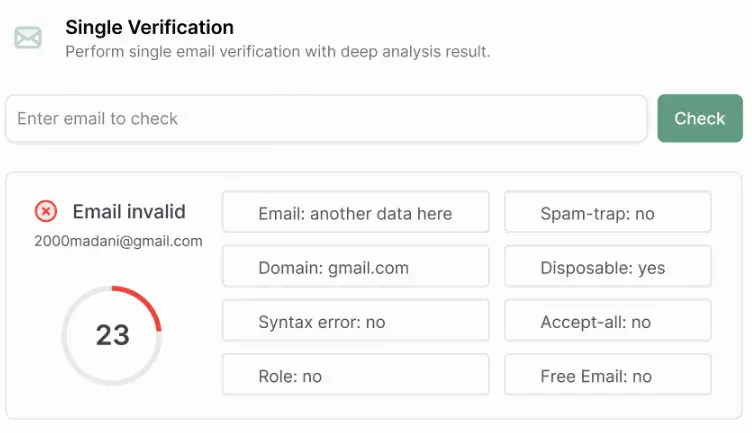 Beyond the syntax, an online email validation tool will have the ability to screen and determine if an email address should not be used. All you need to do is to provide the email address to get the result instantly. If you have a large list, these online tools also have the capacity to check the email list in bulk. It may require some fees but they are a small investment compared to its ability to prevent you from ending up in a spam folder of your potential client.
Preserving Your Email Profile
The biggest reason why you need to use online email validation tools is to ensure your email profile will not be tarnished due to excessive email abuse. Aside from your ESP, ISPs or Internet Service Providers are also monitoring email activities and will mark down an email address that sends messages to bad email addresses. The grades from ISPs are also used by ESPs to determine if the message sent is spam.
Bulkemailverifier.com offers individual and bulk email validation for email marketers, online businesses and more. They provide an easy to use interface so that anyone can easily get started in email checking even on the first day of use. Aside from syntax errors, Bulkemailverifier.com can detect spam traps, accept-all, role as well as disposable email addresses. Aside from email validation, Bulkemailverifier.com can also offer an inbox testing feature that helps email marketers test out their email if it is really sent directly to the clients' inbox.
It's always important to remember that email marketing should be done with the right tools and message.
Bulkemailverifier.com can provide the right tools for businesses to ensure improved communication with potential customers leading to increase in sales. Visit https://www.bulkemailverifier.com/ for more details.