Email Validation: Free and Paid Options
Email validation is the process of checking if an email address is valid or not.
To run an effective email marketing campaign you must make sure you have valid email addresses otherwise you will waste a lot of time and money trying to reach people through emails that don't exist.
There are websites and tools online that are dedicated to email address verification so you don't have to send emails that end up bouncing.
Interested in email validation? Free and paid options are available.
Free Email Verification - Using Free Email Validation Service Providers
You could decide to use a DYI approach and check for yourself by sending an email to see if the email will bounce or not but that is not a smart way to go about it.
There are free email verification sites that can help you verify email addresses easily.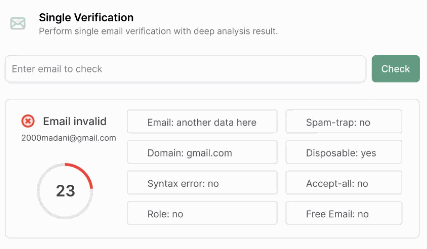 Free email verification can be done if you need to verify a single email address. But for bulk email validation needs single verification sites will not work for you.
If you have an email list that needs cleaning to eliminate invalid email addresses you can choose to use that a single email verification site over and over again taking one email address of your list at a time. But this is definitely not a productive way to work.
The alternative and smart way to do bulk email verification is using paid bulk email verifiers.
Bulk Email Verification - A Paid Option
Bulk email validation or verification tools are available online but they are not free.
The good news is they usually offer free credits to start your verification with before you have to pay. The free credits will help you check how accurate their results are and how fast those results are delivered.
Each credit is just for 1 email address validation but you will get enough credits to validate a number of emails before being prompted to make payment to do more email address validation.
After you are done with the free credits, you will have to purchase one of their services plans before you can validate any other email address.
Most email checkers offer one time checks and monthly plans. With one time checks, you purchase the needed credits for the email list you want cleaned. Monthly plans offer you the opportunity to subscribe monthly and get more credits to work with. The monthly plans are usually more cost effective if you have regular email list cleaning needs.
There are many bulk email checkers online so you can compare pricing plans and features of different providers before making a decision on who to use.
Remember to consider speed of delivery, pricing and responsive customer support before choosing an email validation tool.
A Reliable Email Verifier
Email validation free service providers cannot meet your needs if you have a large list of email addresses to validate. You will need a reliable bulk email cleaner that will help you validate email addresses easily.
BulkEmailVerifier.com can help you get great results at affordable rates. Visit https://www.bulkemailverifier.com for more info.