GetEmail.io Review – What You Need To Know
Email marketing is one of the simplest yet most effective methods of gaining and maintaining customers. Its premise is pretty simple: a good business sends out an email from time to time to their current and potential customers about their products and services. It's a perfect method of communication since it's highly effective and efficient with the right tools.
But a business has to start somewhere when it comes to successful email marketing – a valid email address.
This is where GetEmail.io comes in as a service that helps businesses find the right contact information in the right places. Basically, GetEmail.io helps to find and verify email addresses so businesses can create contacts of potential clients. Businesses looking for a strong start in creating client lists through email contacts should greatly consider this business.
Simplified Smart Process through AI and More
Using GetEmail is greatly beneficial for every business looking to create a client list because it follows good practice while following standards in data privacy and more. They work to extract and verify email online using algorithms and big data - using this as a backdrop to determine the correct email address of a potential contact.
GetEmail determines the correct email address of a potential contact by learning more about the company domain and the format of their email addresses. For example, a company with a domain @businesscompany.com generally uses the naming format "JSmith" for the email of John Smith. Using the same logic, the email address of their CEO named David Smith could be DSmith@businesscompany.com. Normally, finding this email address would take a while if it's indicated online but GetEmail.io "deduces" this email based on available information.
Aside from using algorithms and big data in finding a potential client's email, GetEmail.io also has a powerful browser extension in collecting email addresses. This extension is highly recommended for finding email contacts and potential clients through LinkedIn. The extension works by automatically finding the email address and details associated with the contact information. The names and contact information are consolidated in a file that can be downloaded after use.
The beauty of using GetEmail.io is its focus on finding professional email addresses instead of personal contact information. This ensures that contact information is strictly on the business side without any potential problem with personal data privacy.
Bulk Email Verifier
Before sending out the first message to the collected email contacts, it's important to run the data first through an email list verifier.
One of the best websites to consider for this type of service is Bulkemailverifier.com. As the name of the website suggests, it's an online service that checks if the email address is correct through a series of processes. From syntax (correctly written email address) to domain names (checking if the domain name is active), the website takes a good look at the list with immediate results.
Bulkemailverifier.com uses a fairly simple interface to determine the validity of each email: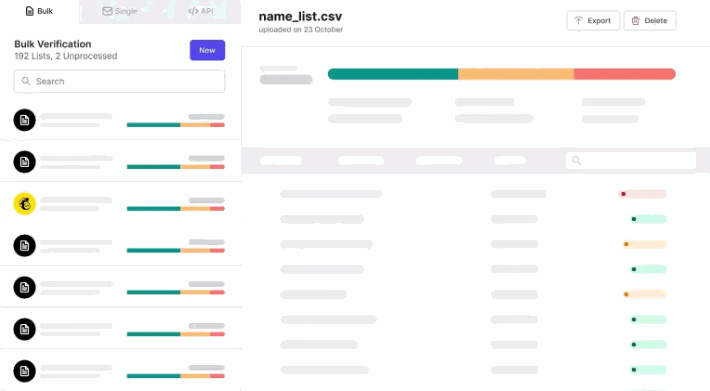 Its intuitive dashboard gives the customer a good idea on how many emails are actually active and can be used as a valid contact. The result can be exported for personal and manual verification. The site also comes with single email checking and API for those who want to integrate email validation service to their website.
GetEmail.io is a great website for creating a potential list of clients through email addresses. With the help of www.bulkemailverifier.com the collected email addresses will be further validated for its correctness to ensure safe and smooth email marketing.