Pabbly Review – A Look at Pabbly's Email Validation Service
Email marketing is a simple yet powerful tool for doing business online. Businesses take full advantage of email to ensure their clients are updated with their latest products and services. With the right type of tools, a good email can boost a business and also the same can be said that a bad email can easily drown a business.
To ensure that the business grows online, email verifying is a must to prevent any form of bad email addresses. A bad email address could be a misspelled email, a randomly created email by clients or a spam trap email - these are the type of email addresses that cost effort and money for businesses without any return. With a good email checker, these emails can be easily removed.
Pabbly - A Simple Email Checker
A good website to consider to check valid email addresses is Pabbly.com. Cleaning an email list to weed out invalid emails is one of their suite of services for businesses. It's a very straightforward service that does not require extensive technical knowledge. Simply create an email list in .csv format, upload the picture and run the process.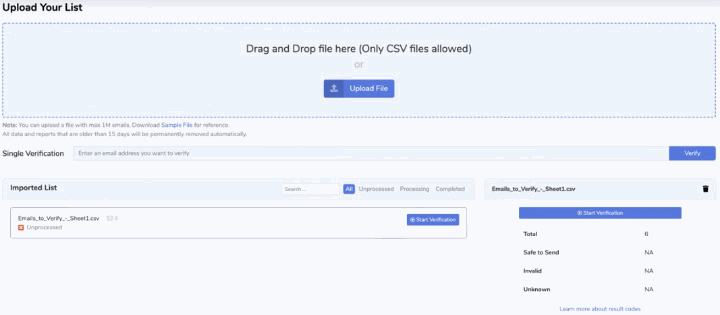 After completing the process, download the file with a clean email list. Customers will also receive an extensive report on the reason why some emails are considered not valid.
Pabbly's bulk email validation can be used by purchasing credits - the more credits purchased, the more emails can be checked for validity. What's unique about Pabbly.com is that they do not offer a subscription service which means it's a pay-as-you-go email checking service. It's a good type of service to consider when a business just needs to check bulk emails once. According to Pabbly, their customers' credits do not expire which means customers can still go back to their website and claim their remaining credits to check valid emails anytime.
Email Checker & Email Marketing
The email list verification service from Pabbly is one of their online services. Email marketers will particularly enjoy this website because aside from ensuring that each email address is valid, they also offer email marketing tools.
Customers can create email marketing tools using their multiple templates that will easily catch the attention of potential clients. They also offer unlimited email sending and use unlimited SMTPs to ensure that all emails are sent.
Complementing these email marketing tools are their form builder, subscription billing service and automated workflows for easy and fast data transfer.
Pabbly as an online service for business processes is actually good. Their email marketing options are quite impressive because they offer unlimited email sending with support to unlimited SMTPs to ensure each email is sent.
However, when it comes to email verifying their services can be lacking. Email addresses have to be checked on a constant basis to ensure that they are valid. Depending on the email provider, an email address account could be deleted as early as three months when they are not used. Their email checking tool requires their customers to pay every time they need to check an email address.
BulkEmailVerifier.com can be a good alternative. The website has a pay-as-you-go service also but their monthly subscription service is very impressive because they allow a daily cap for their customers. This means their customers can check thousands of emails daily without having to spend more in case they need to check additional email addresses.
Businesses that use email as part of their marketing tool have to ensure they use the right service with the least possible cost. Bulkemailverifier.com can provide the much needed service of validating bulk email addresses at an affordable rate with high accuracy.